Even though the 3D DNA Animation in PowerPoint video tutorial is 15 minutes long but I will try to cover everything in short in this blog post.
The first thing is that you might need to have Windows 10 and Office 365 on your system if you want to draw your own Custom 3D Objects in Paint 3D and later want to animate them in PowerPoint. Paint 3D is available with Windows 10 and 3D objects are available only in PowerPoint 365, 2021, 2019, and 2016. You can read more about How To Use 3D Objects in PowerPoint in this article.
So, before you begin, you can first go to the Insert tab and see if the 3D Models drop-down menu is available there as shown in Figure 1.1:
You can also check the PowerPoint version installed on your system by clicking the File menu and then choosing Account.
The Stock 3D Models option under Insert 3D Models gives you access to an Online 3D Models library from where you can choose various pre-animated and still 3D Models. Do remember that you cannot customize the 3D Model itself in PowerPoint and you cannot also customize the pre-defined animation effects applied to them. You can freely rotate them, can choose a pre-defined scene, or can also apply pre-defined 3D animation effects.
For instance, the following 3D Dinosaur object is having 5 different scenes and you can also apply 5 different 3D Animation effects from the Add Animation drop-down menu of the Animations tab as shown in Figure 1.4 and Figure 1.5. You can also read our article How To Make A 3D Dinosaur Animation to learn more about how to use 3D Models in PowerPoint.
We used Paint 3D to create our own Custom Single DNA String and saved the file as a 3D Model in .glb file format. You can also download the Single DNA String Paint 3D File from the link below and can open that file in Paint 3D to investigate that how we have drawn the string.
---
---
In Figure 1.6, you can see the Single DNA String 3D Model View in both 3D Viewer and Paint 3D. We used Paint 3D tools to create a single DNA string and then later in PowerPoint, we can create as many duplicates as we need.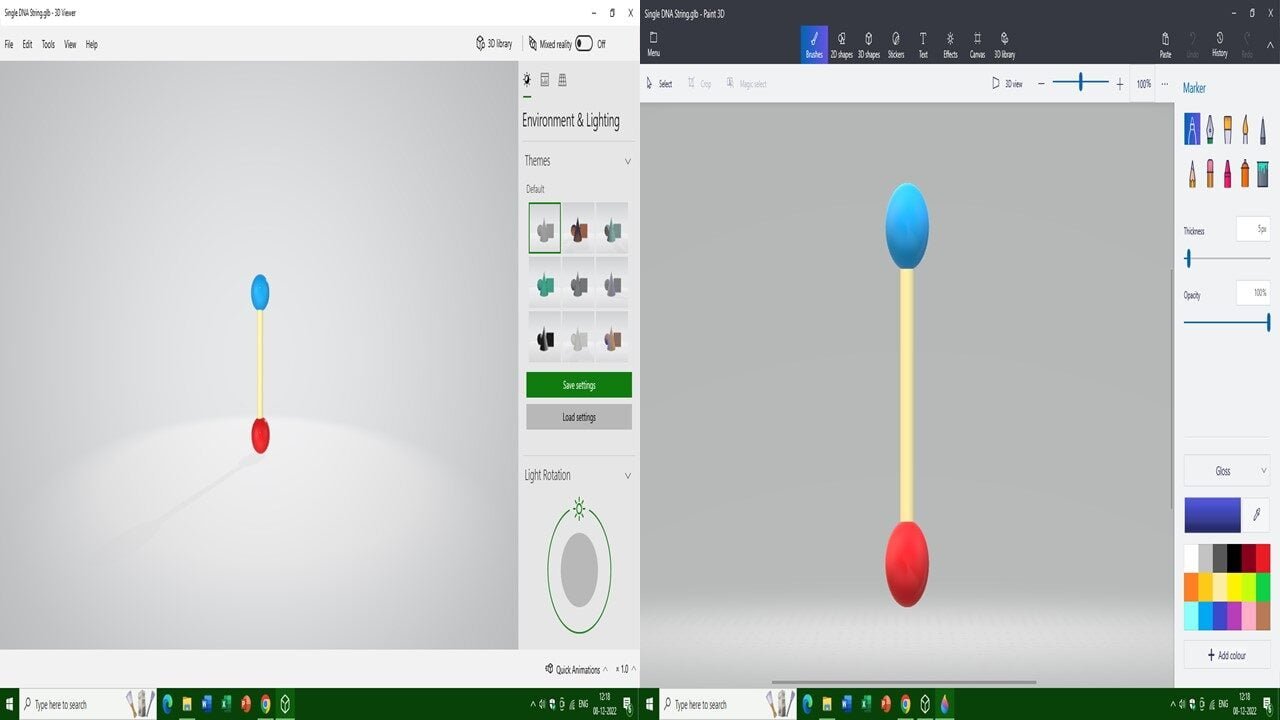 So, once you have the custom 3D Model ready to be inserted into the PowerPoint slide then you can use the This Device option from the 3D Models drop-down menu of the Insert tab. Then browse for the location where you saved or download the Single DNA Strip 3D Model file.
---
---
Download 3D DNA Animation PowerPoint PPT
DON'T FORGET TO LEAVE A RESPONSE.
---