Dog Animation in PowerPoint is a collaborative project. I would like to thank Avinash from +KnackGraphics for designing the Dog Character in Adobe Illustrator CC. All the layers of the Dog body have been carefully arranged and exported in EMF format and later we can import EMF file formats in Microsoft PowerPoint 2016 / 2019.
Graphics Designing
The project files include two EMF format files: Dog and Tail. The Dog.emf file contains the body part and Tail.emf consist of 9 different poses of a moving Tail. You can use the Insert – Pictures option to import Dog.emf file into the slide.
By default, when you import an EMF file into PowerPoint, it will always be imported as a single grouped object. So, you need to Ungroup the EMF file to separate all the layers.
From the Home tab – click Select drop-down button and then click Selection Pane. In Selection Pane, you can see this picture as a single grouped object.
Select the Picture and from the Format tab – click Group drop-down button and then click Ungroup. See Figure 1.2:
Figure 1.2 indicates that when you will click the Ungroup, a message will appear stating that "This is an imported picture, not a group. Do you want to convert it to a Microsoft Office drawing object." and that is a great feature of PowerPoint that it will exactly show all the layers when you Ungroup an EMF file once. But all those layers are still under a Group named "Group 4". So, you need to apply the Ungroup command a second time to separate all those layers, so you may use each layer individually.
Use the Ungroup command from the Format tab a second time after selecting the picture and then look into the Selection Pane. Group 4 is gone now and each layer can be used individually.
Later, you need to Group all those separate layers into individual Groups as required. For instance, look into Figure 1.4, where layers that correspond to face like Nose, Right, Left Eye, Right Ear, Left Ear, and Mouth have been grouped into a single object Face.
Adobe Illustrator and Microsoft PowerPoint could be great animation tools if combined together.
Custom Anchor Points has been defined for Tongue and Lower Belly. See Figure 1.4, where only Tongue and Lower Body can be seen having an Outline Color, to demonstrate that additional ovals have been grouped with these objects. Those ovals are not seen on slide as we applied No Fill and No Outline Colors to them.
Animations
Tongue: A very short Down Motion Path has been applied to the Tongue layer. Duration timing is 0.25 Seconds, Delay Timings 0 Seconds, and Repeat Until End of Slide. 0.12 Seconds Smooth Start and 0.13 Seconds Smooth End, which is half of the total duration timings. Applied Auto Reverse as we want the Tongue to move downwards and reverse back to the same location.
Belly: Right Motion Path with a very short length has been applied to the Belly having the same Effect Options properties as we had defined for Tongue like Duration 0.25; Delay 0, Repeat Until End of Slide, Default Smoothness with Auto Reverse.
Lower Body: Spin emphasis effects have been applied on Lower Body with 15 Degree Clockwise Rotation (Custom Anchor Points are for assigning the exact rotation point from where you want the object to SPIN), No Smoothness, With Auto Reverse, Duration 0.25 Seconds and Repeat Until End of Slide.
Tail 1 to 9: As we need to move the tail in a realistic manner (PowerPoint doesn't support Rubber effect), so as always we used the Flash Once animation effect for each pose of Tail from 1 to 9. The only important thing you need to note down about Flash Once animation is the Duration and Delay timings. All the Tails have the same duration of 0.90 Seconds but 0.10 seconds Delay Timing has been added to each next pose. Like Tail 2 delay timings are 0.10 seconds, Tail 3 having 0.20 Seconds, Tail 4 with 0.30 Seconds delay timing and so on.
If you are using a later version of PowerPoint than 2007 or going to use Flash Once for the first time then you need to read our article on How to Get and Use Flash Once in PowerPoint 2010 / 2013 / 2016 / 2019.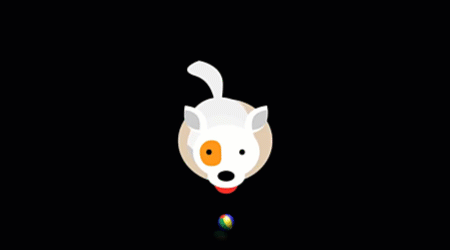 I hope you got The Teacher Point.
---
---
---
The article How To Make Dog Animation also applies to the following versions:
PowerPoint 2007
PowerPoint 2010
PowerPoint 2013
PowerPoint 2016
PowerPoint 2019